If you're interested in flipping houses, you might be wondering whether you need a Real Estate license to get started. It's becoming a hot debate among the investor community. Although it's not necessary to flip houses to do so, having a real estate license is beneficial to generate a passive income through Real Estate. A real estate license offers many additional opportunities and a solid foundation of knowledge. Any person engaged in buying and selling properties will find it beneficial and easy to obtain a real estate license. After reading this blog, the choice is yours.
Do I need a Real Estate license to Flip Houses?
Where you intend to flip houses will determine the response to this question. A real estate license may not be necessary to purchase and sell properties in some states or nations. Nonetheless, in some locations, a license might be required.
In the United States, for example, real estate license standards differ by state. Certain states require a license if you want to carry out real estate activities for another person's benefit in exchange for payment. It's possible that certain states don't require a license for specific actions, including buying and selling your own property.
Why Obtain a License in Real Estate?
Although obtaining a real estate license is not necessary for your state or country, doing so can still be advantageous if you intend to flip houses. If you want to work in the house-flipping industry, having a real estate license will help you gain a deeper grasp of real estate laws and transactions.
Gaining access to networks and resources that might assist you in finding properties and buyers is another benefit of having a license. A license can also assist you in building credibility with other real estate experts, including lenders and contractors.
Pros and Cons of Real Estate License to Flip Houses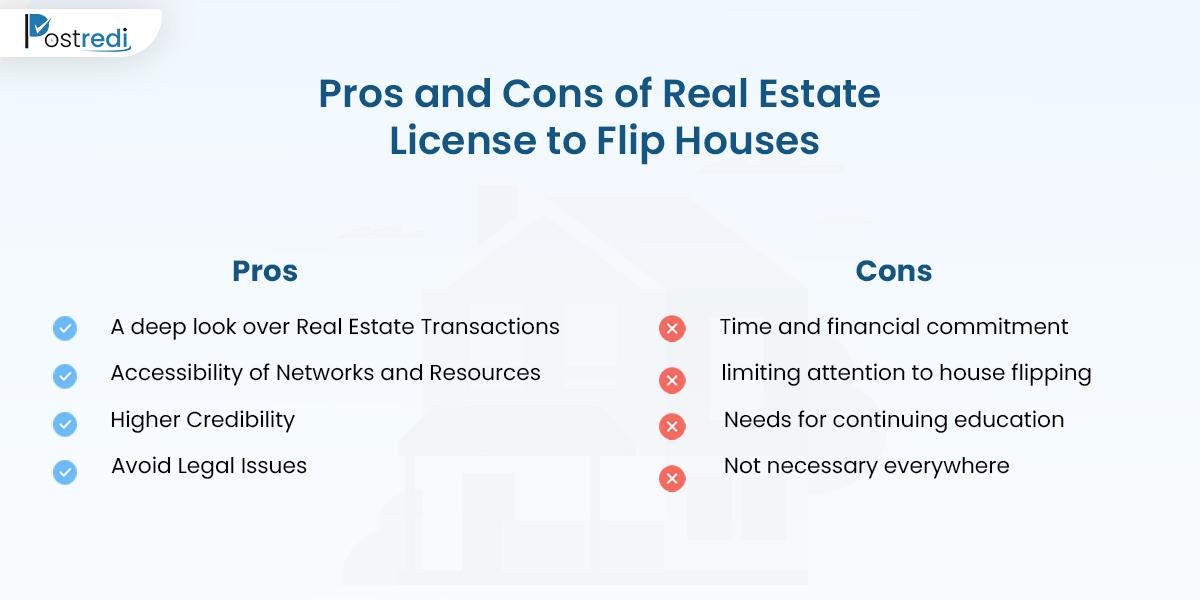 Before you consider getting a Real Estate License, here're some pros and cons of flipping houses. It's necessary because it helps you think from every aspect and select the best for you. Here're some pros and cons of getting a Real Estate License for flipping houses:
Pros:
1- A deep look over Real Estate Transactions
Getting a real estate license can give you a deeper grasp of real estate transactions, rules, and market trends. Having this knowledge will help you as a real estate investor when making judgments.
2- Accessibility of Networks and Resources
As a real estate agent with a license, you'll have access to tools like the MLS (Multiple Listing Service) and business networks that can assist you in locating possible houses to flip and building relationships with other experts in the field.
3- Higher Credibility
A real estate license can provide you credibility with other business people in the field, such as lenders and contractors. Also, it could increase the trust that sellers and buyers have in you as a real estate investor.
4- Avoid Legal Issues
A real estate license can assist you in avoiding potential legal problems that might emerge while flipping houses by giving you a better awareness of legal requirements and laws.
Cons:
1- Time and financial commitment
Real estate licensing applications demand considerable time and financial commitment. In order to get your license and keep it, you'll need to finish pre-licensing education courses, pass a state exam, and pay fees.
2- Limiting attention to house flipping
Many real estate transactions, rather than house flipping, are covered in real estate education courses. As a result, the education might not be as industry-specific as you would like.
3- Needs for continuing education
To keep your license, you must regularly take continuing education classes, which can be time-consuming and expensive.
4- Not necessary everywhere
Depending on where you live, a real estate license may not be necessary to flip houses. Getting a license might not have many advantages.
How to get a Real Estate License?
Depending on your region, each state has various curriculum and testing requirements for real estate licenses. Despite this, the overall procedure appears the same. For a clearer knowledge of how to obtain a real estate license, read through the following steps:
1- To Ascertain competence
To get the Real Estate license, it's necessary to make sure of your consideration. It means that you're legally eligible to have a license. For this purpose, you must be 18 years old and must be a citizen of the US. Additionally, it would be best if you did proper research on specific requirements in your location. This may include educational requirements, exam requirements, and other qualifications.
2- Attend a pre-license course
In most cases, you'll need to complete a certain number of hours of pre-licensing education in order to be eligible to take the Real Estate license exam. These courses are typically offered by approved education providers and may be taken online or in person. The pre-license course hours are 60 to 150 hrs.
3- Pass the licensure test
After completing your pre-licensing educational hours or requirements, it's time to register for the exam. Pass the Real Estate license exam in your state or country. The exam typically covers real estate topics and state or nation-wise topics. After passing the exam, you must submit an application to your state or country's Real Estate regulatory agency with proof of completing the exam and any necessary fee.
4- License Activation
After submitting the application and submitting the fee, it's time to activate your license. So you must be aware of what its cost is – typically, its cost is $200 -$500. It's also a great opportunity to register your license with the National Association of Realtors (NAR) to become a successful Realtor.
5- MLS Participation
MLS stands for (Multiple Listing Services), which is a database of property listings shared among licensed real estate brokers and agents. So it will be a great opportunity to use your activated real estate license and pay the necessary fees to be a part of an MLS team in your area.
In Summation
Now it's time to ask yourself again, "Do I need a Real Estate license to flip houses?" after thoughtful consideration. We hope that after reading this blog post, you get the right answer and a lucrative career in real estate. As you can see, there are several advantages to having a real estate license and taking advantage of Realtor opportunities. But if you want to limit yourself or your career, then there's no need to put your leg in extra Real Estate affairs.