Digital Real estate investing has long been one of the most prevalent sorts of investment. But as technology evolved, the notion of real estate has changed, and digital real estate is now a viable investment preference for investors who want to diversify their portfolios. You can invest in digital real estate by buying and holding virtual assets like domain names, websites, and social media handles.
If you want to invest in digital real estate, you've arrived at the right place. We'll review the pros and cons of investing in virtual property and offer advice on making the most of your investment. Let's dive in right now.
Why Invest In Virtual Property? – Top Factors
If you want to invest in virtual property but don't know how much it's lucrative for your business. Then below are some top factors that you should consider while investing in digital real estate:
Digital real estate is much cheaper and more beneficial than traditional real estate. Because when you enter the digital property, you only need to spend a few hundred dollars to quickly start your project. However, in traditional real estate, you must invest a handsome amount in starting your project.
Potential for high revenue
The field of digital real estate presents a promising opportunity for producing significant returns on investment. Websites can generate revenue through various means, such as advertising, e-commerce, and affiliate marketing. The value of domain names may increase over time, especially if they possess clarity, memorability, and a widely recognized extension such as .com.
The ownership of digital assets has the potential to generate passive income via real estate, thereby enabling individuals to earn income without the need for active property management. Upon establishment, a website or social media account has the potential to generate revenue through advertising or product sales.
You can diversify your investment portfolio by purchasing a virtual property. This approach has the potential to reduce risk and enhance profits.
Digital real estate provides extensive versatility in terms of location and management. Virtual property management is feasible from any location worldwide, and physical maintenance or repairs are eliminated.
A new opportunity for growth and expansion constantly arises because the digital environment constantly changes. Investing in digital real estate allows one to strategically capitalize on such opportunities.
Pros And Cons Of Investing In Digital Real Estate
Here are some pros and cons of investing in virtual real estate:
| | |
| --- | --- |
| Pros | Cons |
| Low barriers to enter | High barriers |
| Potential for high returns | Not having overall tangible assets |
| Investment portfolio diversification | High saturation and competition |
| Flexible investment management | Asset valuation is difficult |
| High potential for generating passive income | Assets can quickly become outdated due to technological advancements |
| Possibility of utilizing digital marketing techniques | use of search engine algorithms |
| High Liquidity | Fraud and scams could occur |
| numerous investment opportunities and options | Legal and regulatory uncertainty |
How To Implement Investment Strategies For Virtual Real Estate?
There are several tactics you can implement for your virtual business. But here are some of the top tactics that you must consider:
Flipping Digital Properties
It means buying a digital property at a lower price, improving its condition, and reselling it for better profit. For experienced successful flipping virtual properties, you must research undervalued properties, build a potential plan to improve them, and then sell that property to the right buyer.
Also read: How to start flipping houses?
It means buying a digital property and holding on to it until its marketing value increases. This strategy is very beneficial for investors who can easily wait for handsome returns.
Build a digital real estate portfolio
This strategy entails investing in several digital properties in order to diversify your portfolio and spread your risk. In order to reduce your risk exposure, it's crucial to invest in properties with various qualities.
Crowdfunding digital real estate investments
Crowdfunding has grown in popularity as a digital real estate investment method. This entails combining financial resources with other investors to buy digital assets. Crowdfunding enables investors to diversify their portfolios and make smaller investments in digital real estate.
Pro Tips For Successful Virtual Property Investing
If you want to succeed in virtual real estate investing, here are some potential tips that will help you grow more.
Work with a virtual estate agent
You can manage your investments, negotiate deals, and choose the best digital properties to invest in with the aid of a broker.
Make a sound investment strategy
Clearly define your goals, risk tolerance, investment horizon, and investment strategy in a plan for your investments.
Maintain a diversified portfolio of investments
You can reduce your risk exposure and ensure that your investments are spread across various property types by utilizing diversification.
Keep on top of market trends and advancements
Monitor market trends and stay current on any changes affecting your investments.
How To Overcome Potential Challenges In Virtual Real Estate Investment?
When you invest in Digital real estate, you face several challenges, but most users can't overcome these challenges. For those users, here are some top challenges and their solutions. 
Navigating legislative and lawful issues
Investments in digital real estate are subject to several legal and regulatory requirements. To avoid any legal problems, it's crucial to get legal counsel and abide by all rules.
Scams and frauds can also occur in the digital real estate market. Before making an investment, performing due diligence and extensive research on any property is crucial.
Overcoming technical obstacles
Investments in digital real estate necessitate a solid technical understanding. Looking for professional assistance is crucial if you lack the necessary technical knowledge.
Managing uncertainty and risk
There are risks and uncertainties involved with investing in digital real estate. To reduce losses, it's crucial to diversify your portfolio and manage risk.
How Much Money Do You Need To Invest In Digital Real Estate?
Investing in digital real estate is relatively new; however, it can present a profitable prospect if executed appropriately. Here are some strategies or steps to invest in virtual real estate.
1- Learn about digital real estate investment
The term digital real estate investment is related to intangible assets that are present in the online space, including but not limited to domain names, websites, and social media profiles. Similar to physical real estate, these assets can be purchased, sold, and leased.
2- Find profitable niches
Conduct research on prevalent and lucrative high-demand niches, including e-commerce websites, online courses, and blogs focusing on popular subjects such as health and fitness, personal finance, and lifestyle.
3- Get a domain name
After identifying a particular niche, acquiring a domain name relevant to the identified niche is recommended. Domain names can be purchased from websites like Namecheap, GoDaddy, and Domain.com.
4- Build a website
Employ website builders such as Wix, Squarespace, or WordPress to build a website for your particular field. It is vital to ensure that the website possesses user-friendly navigation and visually appealing design and offers visitors valuable content.
5- Increase website traffic
Apply real estate digital marketing strategies like search engine optimization, social media, and content marketing to enhance website traffic. The value of a website increases correspondingly with the amount of traffic it attracts.
6- Website monetization
After a website has gained a substantial amount of traffic and a dedicated audience, it becomes feasible to generate revenue through various means, such as selling advertisement space, providing affiliate products, or vending digital products such as online courses or e-books.
7- Monitor and sell your property
Ultimately, it is advisable to oversee your digital resources and sell them at a reasonable time. One strategy to optimize returns on an asset is to actively seek out potential buyers and evaluate the possibility of divesting the asset once it has reached its maximum potential or when the desired return on investment has been attained.
5 Ways To Make Money From Virtual Real Estate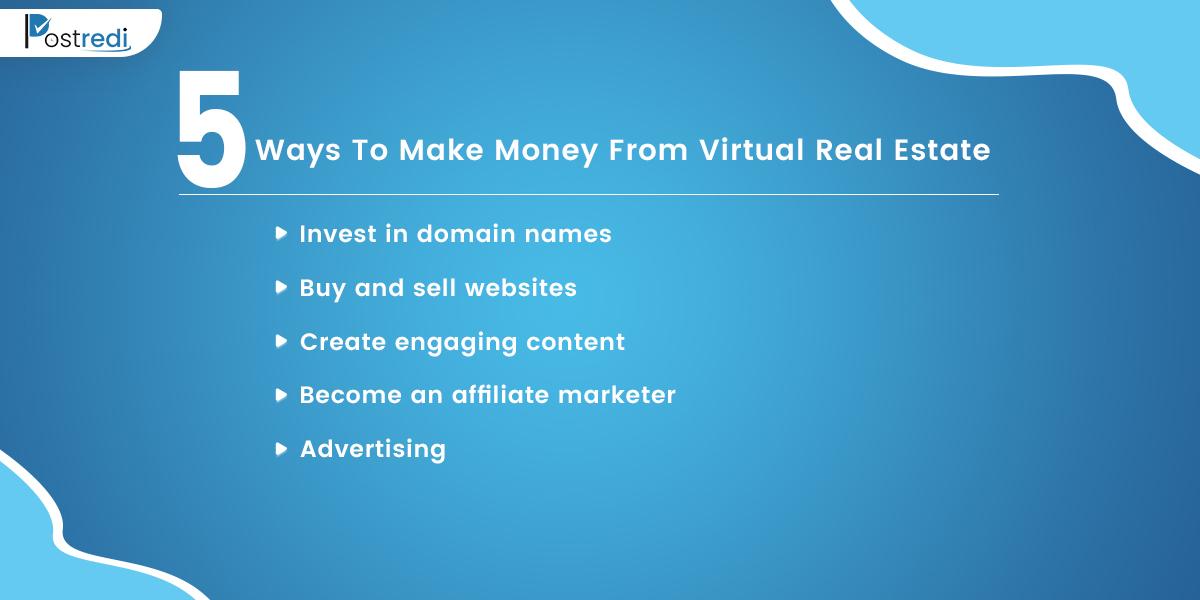 Making money from digital real estate business is becoming increasingly popular as more people turn to the Internet for business and personal needs. Digital real estate is a type of property that takes the form of websites, domain names, and other online assets. With digital real estate, you can generate revenue from renting out these assets or from selling them. Here are a few tips to help you make money from digital real estate.
Domain names are the online equivalent of physical real estate. Registering a domain name and leasing it out to a business or individual can be a great way to generate revenue. You can also buy domain names up for sale and resell them at a higher price.
Like domain names, websites can also be bought and sold for a profit. If you have an eye for a good website and can make it more profitable, you can profit from buying and selling websites.
Content is king when it comes to digital real estate. Creating content for websites, blogs, social media, and other sources can help you generate revenue from your digital real estate.
Become an affiliate marketer
Affiliate marketing is a great way to generate income from digital real estate. You can join affiliate programs and promote products and services to your digital real estate audience.
Advertising is another great way to generate revenue from your digital real estate. You can set up ad spaces on your websites and blogs and earn money from the clicks and impressions your ads generate.
Making money from digital real estate is not as difficult as it may seem. With these tips, you can generate steady income from your digital real estate.
Final Thoughts
Investing in digital real estate is a lucrative profession. It's a great avenue for entrepreneurs and investors seeking passive income. So, if you want to invest in digital real estate and are willing to put your effort into it, read the above blog carefully to learn about the ins and outs of digital property. Don't wait – start exploring the digital real estate investing realm today!