Everyone wants to improve their lifestyle and it's your job as a realtor to help them see new opportunities. A great tool for this very purpose is social media, where you can get high-quality leads and promote your real estate business to a wide array of audiences. But how to make it compelling? What type of post on social media will attract a good reach? We have created some content ideas for your social network, so without any further ado, let's start!
A Little Sneak Peak of your Listing
Share your listing with the audience and let them explore the captivating options they have. It will give your community an idea of which homes are out on the market. You can either make static posts with featured images like a carousel post on Instagram. Or you can create a video. Videos tend to be more powerful. They are engaging and fun to watch. However, the video must include the following aspects:
• Show the best features of your property.
• Add the details that would attract your target audience like the number of baths, beds, swimming pool, etc.• A compelling CTA (call to action) that would prompt your followers to take action.
Behind the Curtain Activities
This is a great opportunity to express your workspace environment and share your daily work activities. To build a sense of community, you can also introduce your team through a quick Insta reel. Seeing your daily efforts, you will become a relatable and approachable person for your online viewers. You could also make a highlight section of these behind-the-scene videos.
Just Sold Posts
Build social proof because that's a big need for a realtor. Post about the home or property that you have recently sold. You can add your client's testimonial video as well. "Just Sold" videos attract more valuable online leads. If you are a Postredi user, these leads will automatically be added there, which you can get a follow-up on from your account's "Leads" section.
Paint a Picture for your Clients – Home Tour Videos
Even before looking at the promotion videos, people want safety assurances first. Is the neighborhood they are moving to, safe enough? What's life there like? You can capture these little details in your home tour videos. This will give them an idea of what the place is like. Meanwhile, you can talk about the lifestyle in that neighborhood and paint a picture of what it'd be like to move into this new place. Remember, home tour videos are mostly for people who can't visit the property in person, so the devil lies in details. Here's how it should be done:
• Start with neighborhood guides and highlight the local attractions. More often than not, people buy more for the sake of location than properties. Inform them about the public services, schools, hospitals, local eateries, and crime rate. You can also create a separate handy neighborhood guide post.
• Walk them through the rooms and talk about the renovations you have made and other desirable features like storage solutions, kitchen space, and so on.
• When taking a tour of the bedrooms, don't forget to give them an idea of the room's size and closet space.
• Lastly, a CTA reminder.
Small Contests and Giveaways
One of the best ways to maximize your reach and ensure engagement with your audience is by conducting giveaways and contests. It will not only improve your brand awareness but also give you an idea about your potential customers' priorities. Usually, game tickets, coupons, books, Amazon gift cards, or custom products work like magic. But the best giveaway is something your audience wants. So don't be afraid to ask. You can conduct a poll for a better decision.
Updates on Local News and Events
Share what's been happening in your community. An update on the local news with some interesting information will keep the prospects connected to you.
Local events are a great way to portray your targeted neighborhood and also strengthen your community relations. So attend and organize these events, build a social circle, and who knows you might end up being known as the town expert by your followers.
Share your Expertise through Tips
Your clients have busy weekdays and tiring weekends, and they don't have a lot of spare time to research. This is where they will look up to your expertise. So for a real estate marketing, what kind of post on social media will get a good reach and also reflect your expertise? Let us provide you with a few ideas
• Share first-time home-buying tips. Provide some financial advice and causes behind a surge in market prices. Try using simpler terms that can be easily understood – decode that real estate jargon for them.
• Market updates of your area and also share the relevant stats. Infographics will be a great way to visualize this information, also making it easier to understand.
• Answer the questions that your followers commonly ask.
• Do myth-breaking videos. Create a story around it by featuring a client that was affected by that myth and how you helped them out of it. This will not only create trust but also help them make smart home-buying choices.
• Make before-and-after posts and talk in detail about the renovations and improvements you made. You can also add some quick DIY ideas to these posts.
• A quick way to add informative content is through "Fun Facts". Make your followers smarter in seconds by sharing some digestible real-estate tips.
Coming Live on…
Post an update of your live sessions on social media for real estate marketing in your stories. Conduct an engaging live session and answer any queries that you get. This is a crucial part of brand-building and it gets more engagement as people prefer unscripted sessions over scripted reels and videos. Share some valuable insights and keep it entertaining.
An Open House Invite
The best way to influence your followers' home-buying decisions is by sharing open-house invitations. Remember, you are not selling here. Just showcase the best features and share the essential details like date, time, address, and contact information and present a professional look of yourself. It will help online clients interact with you comfortably.
You can also post a video of your team handing door-to-door invites, just keep it short and sweet. Don't add any obligatory buying statement that might make people scroll away from your post.
Humorous and Meme Posting
You don't always have to be formal in your posts, mix up the content a little and be a little humorous. A great way to do that is by posting memes that are also relevant to real estate advertising. But why memes? Because not only are they funny and relatable, but also contagious. They can be a powerful source of branding and can set a trend within hours. With such a post on social media, people will connect with you easily and you might find yourself building some online connections with other realtors too.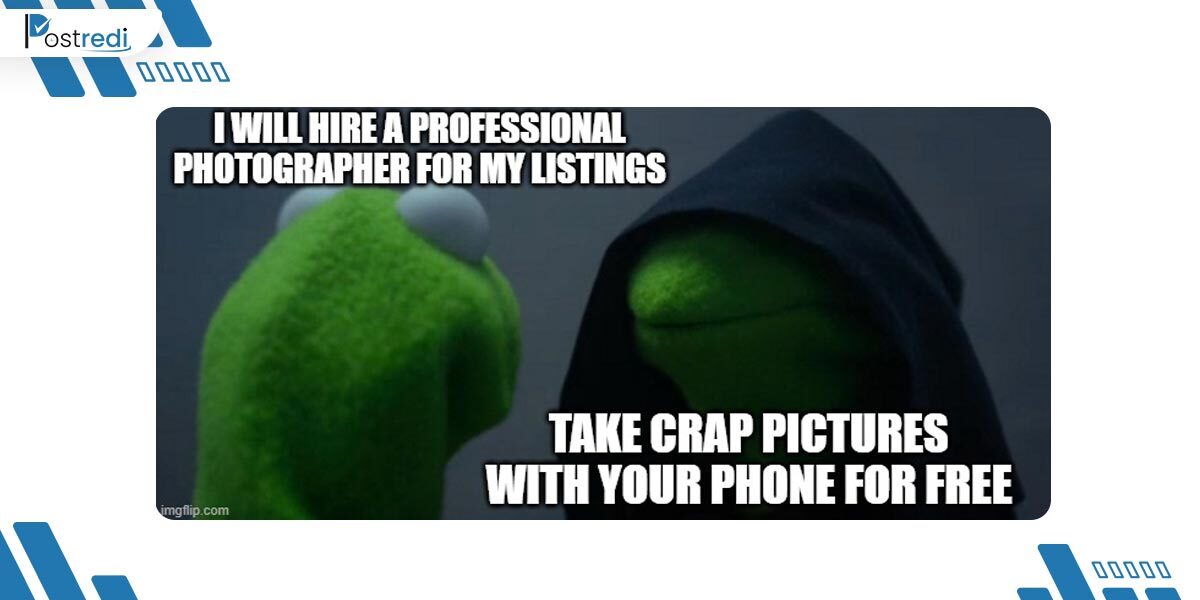 Share your Personal Life
Who are you, as a person, besides a realtor? Share a glimpse of your personal life now and then, especially on Instagram. The following are some ideas to help you with personal posting:
Show your passions or hobbies – what do you like to do outside work? What are your weekends like? It is an amazing and easy way to build relatability.
Holiday Posts – share what you did on Christmas, whom you dressed as on Halloween, what was your Thanksgiving like, and so on.
Throwback Posts – a quick throwback picture from your childhood or when you started the real estate business. If you are now working in the same neighborhood where you grew up, it will be a great way to build a close connection.
A day-in-life video – make selling creative with a reminder that you aren't just selling the property but a whole lifestyle. Help people visualize what their day will be like, talk about the pathways to the nearest schools for social media and parks, and so on.
Community Service – Show your Love and Knowledge
A realtor's post on social media should not be just about buying and selling. Share what you are offering to your community and how you are helping it become a better place. Show that you care. Don't emphasize your deed, but rather the cause and build social awareness.
• Post historic photos and talk about the history and culture of your neighborhood.
• Inquire the community leaders about what's happening and any local plans they are working on.
• A video of you talking to people around the block or trying a new restaurant.
• Facebook and Instagram are suitable platforms for realtors to share local school news like plays, sports events, musicals, and fundraising events.
• Are you helping out with a charity event? Let your followers know so that they can help out too.
Home of the Week Post
Create a home of the week sort of thing where you can post your favorite home from the listing and showcase it to your audience. You can talk about why you like it and it may become a potential client's favorite home too. This might also create a sensation among your followers as it would be something exciting to look forward to.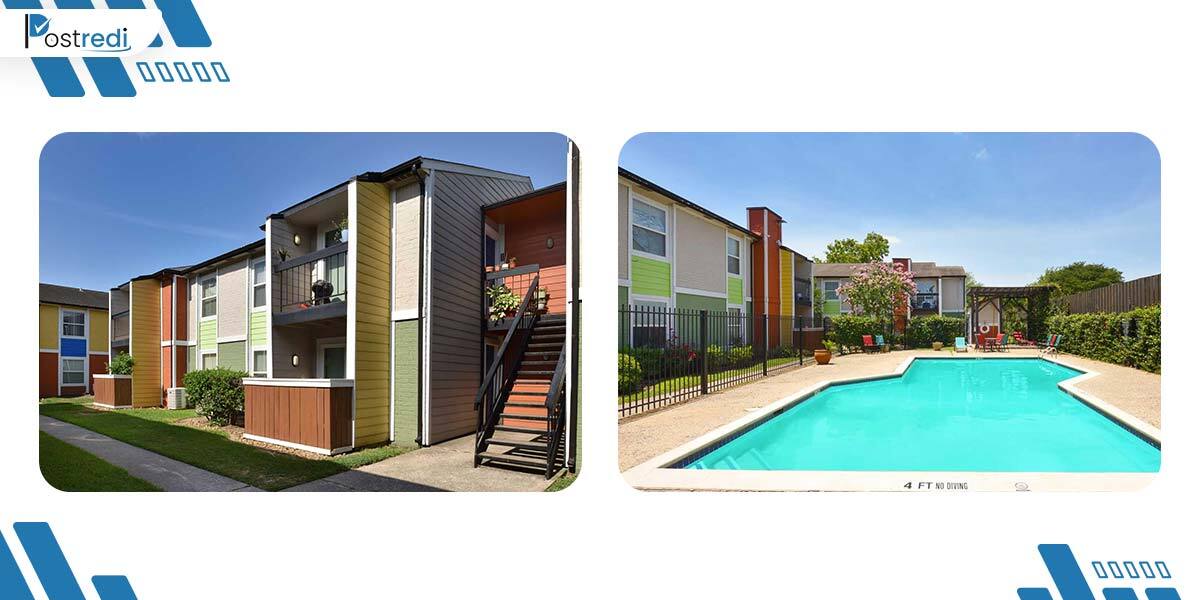 Appreciation Posting
An appreciation post on social media goes a long way. Create a celebration post with your client on buying a new home. Also, add a small appreciation gift with a Thankyou note. This will make them feel valued and connected. It will also lead to a reciprocating gesture from their side, like a great testimonial video or a shout-out. Stay in touch with these clients by offering a yearly shout-out which you can later share in your stories
Improve Consistency with Postredi
You might have figured out by now that you need to post consistently and mix up the posts a little for a successful social media presence. So, do you have to be on social media every day and in every spare moment? No, of course not, that's just overwhelming. To lift this pressure, you just need to summon your little helper, Postredi – a social media post scheduler designed specifically for real estate social media marketing. Simply add your social accounts, create a schedule and let us do the rest for you. You will also get some good innovative ideas through its "Generate wordy social media Post Ideas" tool to add variety to your posts. And yes, we do not forget the hashtags.
Sum Up
The automated posts will be taken care of through our scheduler. And by following the above tips, you don't have to wonder for hours about what you should post on social media. The consistent and varied posting will surely pay off.