Managing social media ads, especially when targeting military families on facebook is crucial. You have to target your audience about families in such a way that it doesn't be the cause of military discrimination. Additionally, the military demographics in the United States should not be disregarded by marketers on facebook because of its substantial $1.3 trillion total purchasing power. And although we frequently discuss marketing to the military community as a whole, today, we want to concentrate on a significant subset of this audience on facebook: the military family. Military families function differently, especially in the case of advertising them. The military spouses spend more than $50 million compared to the overall population. According to resources, they spent most on
31% on food/groceries
79% in furnishing household materials
43% in shoes and clothing
Military spouses and children identify uniquely in the military community. They identify some key differences compared to the general audience, and brands should understand these differences to promote their brand right on social media management sites. So, here's how you can advertise to military families. So let's dive into it.
Military Community
The military as a whole can be divided into more focused, smaller segments:
Active duty: There is a big chance to generate passive income for unique military offerings, as evidenced by the fact that there are 1.3 million active duty military personnel with an average family income of $74,500 annually.
Veterans: There are approximately 20 million veterans in the U.S., and it is predicted that they will spend $43.6 billion annually.
Reservists or national guard members: Nearly 450,000 people are, and they all get good money.
Registered dependents: There are one million military spouses in the U.S. who are registered dependents. They account for a sizable market with various interests and age groups and spend $51 billion annually.
4 strategies to advertise to military families on Facebook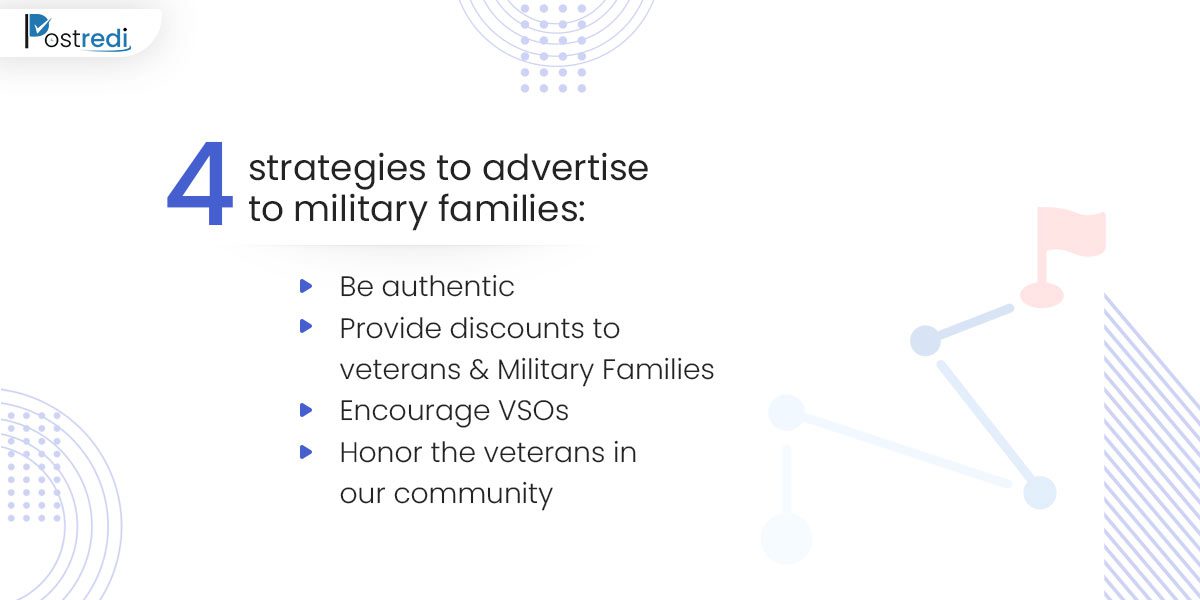 Are you looking to advertise military families on facebook? Here're the 6 catchy Real Estate Advertising Ideas that are consequential, veritable, and will generate leads for your brand.
1- Be authentic
Military marketing campaigns get flat when you don't research military families' survival, language and culture properly. Such failed campaigns also become the cause of turning away your target audience. So, it's essential that when you're advertising military families, you have to do proper research first so that your campaign for your brand goes well, and that will oscillate.
So do you make sure that your campaigns are genuine?
First, look at your stock images as members of the military audience check this first.
Second, Avoid stereotyping.
2- Provide a discount to veterans & Military Families
Building loyalty with customers is a tried-and-true strategy. But in the case of the military community, it's at the top. More than 22% of military families support brands that provide them with military discounts, and 26% of the military community shows their interest in brands because they are loyal and interested in them. Brands can offer two types of military discounts:
The first is a military discount that is available to members of the military sector all year long.
The second is a temporary military discount, such as a May military discount in honor of Military Appreciation Month.
3- Encourage VSOs
The military has given incredibly selfless service to our nation. They value and are loyal to companies that help them and their neighborhood and are aware of the particular difficulties they encounter. According to research, 33% of active duty military members are loyal to companies that help groups that serve veterans (VSOs). They pay attention when your company makes a sustained investment in the military community.
4- Honor the veterans in our community
Highlight the veterans currently part of your organization and community to attract them. Showcase how veterans use your product or service, and draw attention to the veterans who work for your business. Actions speak louder than words and help to show that you are already committed to helping veterans through the way you present yourself and your company.
7 suggestions for focusing advertising on military families on Facebook
Here're the suggestions you can take while focusing on advertising military families:
1- Comprehend military families
To run a successful advertising campaign on Facebook, first, you need to understand who they are, what different media channels they watch, how they spend their lives, and how they would like to communicate with others. The members of military families settled themselves at a young age and built families. Their identity is heavily based on their community. Also, they have strong connections with military associations and VSOs. If you get all the information correctly, it would be easy to advertise them under their privacy criteria.
2- Avoid stereotypes when producing genuine messages
When developing a military advertising campaign on Facebook, the brands face the most significant challenge: the knowledge gap. A knowledge gap between the military community and marketers. This stereotypical information can cause misrepresent the military community and lead to falls. Marketers should know that stereotyping is a good marketing strategy, especially in the case of military advertising campaigns. It can lead to offending your target audience. So, always choose the best strategy for advertising that goes well in all its ways.
3- Promote on-base and make use of military print
We know that military families use and read military publications and base facilities and services. The military community's most trusted media sources are on-base advertising and military publications. According to resources, most military spouses (59%) have a strong connection with brands, especially when they see their ads on-base compared to off-base. They further illustrate that they would like on-base products more and recommend them to others in their community.
Inspecting on-base magazines, military OOH ad results, and military newspapers, more than 90% of military spouses respond to such advertisements after seeing them. Military families are more likely to be loyal to brands that offer them military discounts.
4- Know your Target Audience
Active duty personnel, veterans, retirees, and military families make up the military community. The majority of soldiers serving on active duty are young and married. Family ties are, therefore, highly valued. These families frequently move, on average. Local businesses advertising should be especially conscious that their clientele may be continually changing because of their mobility issues.
5- Be short & to the point
In some ways, military personnel exhibits the effectiveness and uniformity that the name "military" frequently conjures. Fluff articles and artistic declarations are likely to be ineffective when aimed at the simple military members that make up the intended audience. Clarify and streamline your creativity.
6- Organize the Military's loyalty programs
Military personnel and their families value discounts and rewards programmed like any other consumer. Military discounts are quite well-liked across many different businesses. Like any other promotion, they attract customers and express gratitude to those who protect our nation.
7- Watch out for branch-specific qualities
Military personnel and their families devote most of their time to or near the base where they are stationed. To further target this group, media can be used to locate merchandise on or close to military facilities across the nation.
5 fresh perspectives for connecting with today's new military families
Joint research was conducted on 400 military family members to check their thoughts on "what impacts most on their consumer-purchasing taste." The participants included in this research were retired military personnel, U.S. Marine corps, military service moms, spouses of active duty, U.S. Air force, U.S. Navy and U.S. Army. These results shed new emerging light on shopping behavior. They also showed a variety of insights into the factors that influence this group's purchasing decisions. Below are the 5 key findings or new recommendations to connect with today's new military family:
1- They pursue Value
Military families, up to 90%, make shopping decisions based on whether brands offer them a unique discount. And most of the families illustrate that they mostly visit online or physical shopping stores where they have a discount of over 20%.
2- High-profile retailers are on shoppers' minds
Although many military families use the military commissaries on their bases for their grocery needs, nearly 80% travel off the post to shop at upscale department stores for other family needs. 79% of these families will carry coupons when shopping, and 68% of military families will use both online and printed coupons.
3- Service Members Prefer to Buy Over Lease Big-Ticket Items
Military families strongly favor buying when shopping for both homes and cars, with 95% of families opting to buy rather than lease their vehicles. In a similar vein, 65% of military families own their own residences, as opposed to 35% who rent.
4- Military Families Can Benefit from Brand Engagement
These families heavily consider military discounts when making purchases, but in order for military families to benefit from special pricing, retailers must clearly convey their discounted rates. To learn about existing and upcoming consumer offers for service personnel, military families can also strive to develop strong partnerships and continuing involvement with brands.
5- Top Military Families' Travel Itineraries
Most military families live distant from their immediate family, and more than 55% plan to visit them once or twice a year. Nearly 60% of these families take vacations one to two times a year and travel to resorts or theme parks for relaxation and renewal. Additionally, 50% of military families will base their travel arrangements on the availability of prices that are lower for active duty personnel.
A Final Note
Loyalty matters, which is why military families and brands get connected through this. Military family mainly advertise with brands that know military privacy rules and offer discounts to them. Most military families are happy and satisfied with brand links due to advertisements.