With social media networks becoming the 2nd most popular way to research brands, social media marketing has become every industry's priority. Almost every business is taking a step toward digital marketing. But it won't entirely be fruitful without social media management packages. This is where social media managers step in, saving the day. A good social media manager can utilize a variety of tips at their disposal to pace up and streamline a business's growth and revenue. However, keep in mind that there is a clear distinction between being good at using social media, and being a social media manager.
Becoming a good social media manager means handling a lot of responsibilities. So, the first step towards achieving your goal is to get a complete understanding of your roles and duties and have the best SMM skills. The next would be staying organized and making social media strategy. Without implementing some smart management tips, your to-do list will only grow a million miles long. We have also compiled a few productivity tips you can follow to produce more results in less time.
Who is a Social Media Manager?
Let's begin with this simple query. A social media manager is responsible for creating and managing a business's social media advertising strategy. The level of responsibility you get depends upon the size of the company you work with. As a generic overview, you are to create and oversee social media campaign management, produce, monitor, and analyze content, and increase audience engagement as well as the number of followers. So, you will be the representative of a brand across various social channels as their sole voice.
Tasks and Duties
Almost a decade ago, the role of social media manager was nonexistent. But now, companies have developed goals like "optimized brand awareness", "increased website traffic", and "customer acquisition through social media". And your job as a manager is to help them achieve those goals. Your general tasks and duties include the following:
Building Engagement Strategy – As a good social media manager apply lots of tips, your job is to read, respond, and engage with the audience on all social channels. The goal is to improve customer relationships and turn your leads into customers through effective engagement. This in turn leads to an increased number of sales.
Input in Promotional Strategies – You are to support and provide insights into influencer marketing, paid advertisements, increasing organic traffic, white-label social media management, etc.
Establish and Support a Conversion Strategy – A significant aspect of your job is to help the company gain more conversions. This is done by learning more about the social media target audience(like target military families), their concerns, pain points, and solutions to address them.
Develop Brand Identity – Give the audience the reasons they can resonate with the organization – an answer to their "why".
What to Post, When to Post – A key duty in managing social media platforms is determining the level and frequency of social media communication. You are to build a communication frequency module, focused on how often to post on which channels.
Any Pros to Hiring A Manager?
Businesses when taking a start, wonder if hiring a social media manager is really a wise option, or if is it just wasting my money. They are of the mindset that it's just social media. What's the best or worst that can happen? Meh, we will figure it out. But this kind of thinking leads to a gradual decline.
Only by building and following a social media strategy, can one excel in getting traffic from social media. That is where good social media managers step in. Here is a list of a few pros to give you a gist of their importance.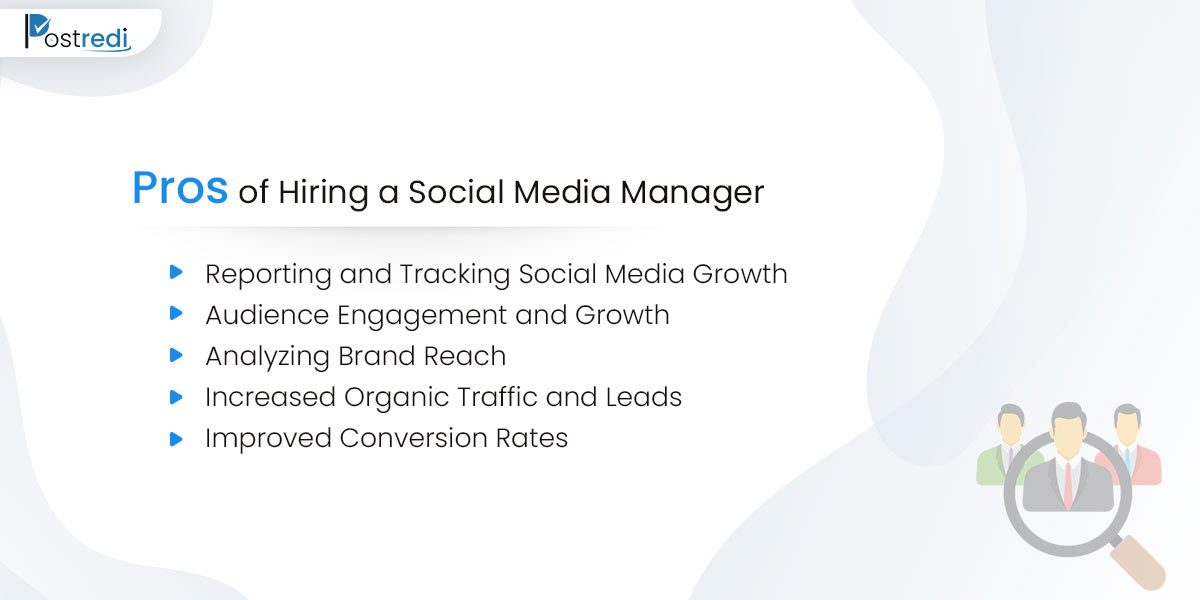 Tips for Becoming the Best Social Media Manager
There are many skills and prowess that a person needs to be the best of the best. The social media manager is different and he needs to slide in some tips and tricks of all the best SMM skills in and out of the team, topping the point with expertise and competency. Here are a few factors to level up your game and become efficient in your job.
1- Set your Goals
Your first step towards productivity begins by setting social media goals, which must of course be attainable, measurable, and aligns with the overall business objectives. Here is a goal-setting framework you can use for guidance.
Defined – Keep a clear and defined list of what you will be accomplishing. The more specific the better.
Achievable – Do not burden yourself with completing the most tasks right away. Break them into doable and achievable levels. Also, figure out if you have got the right tools and resources to attain these goals.
Realistic – No big promises that you don't have the skill set to fulfil. Consider time, resources, and provided budget before stranding yourself in the sea of unrealistic goals.
Follow Timeframe – Time management should come naturally to a good social media manager for utilizing tips. Give yourself a weekly, monthly, and annual timeframe for each goal. Again, be realistic about it.
Measurable – Track social media goals through numbers – Key Performance Indicators (KPI) and metrics.
2- Strengthening Communication and Creativity
Unlike Royalty, a good social media manager must have great communication. From the newspaper era, the only column that is set in front always had a vision, the piece that can attract readers and fill them in like a story being unravelled. Just like that, the basis of social media lies the communication standards, which provoke fancy captions, magnetic keywords, and planning.
Multiple social media platforms restrict the number of characters one can post and know this, managing your writing to hold an equal standing in all platforms is a skill set a social media manager must have. Thus having content with swell imagination and having crest word with no typo, to be ready, because you cannot fix it once viral.
Given the newspaper, we cannot forget that the great visual element is always printed on the cover. A great social media manager's level of creativity can put him above the market. Whatever graphical content you develop, photograph, design, or video, needs to be an I-Candy, which creates a buzz and pulls the bee to its honeycomb. The content needs to be share-worthy and talked about.
3- Keeping up with the Latest Trends
Developing social strategies by updating your digital marketing skills to make your business strong should be a top priority of a manager. This development will lead to great connections and high profits. For example, if you are thinking of managing a real estate business online, you must know about real estate social media marketing, and what are the latest trends you use.
The duties are immense but trends tend to change as time goes on. So you have to keep up. Keeping up with the trends of social media is like running a marathon. Listening and reading customer feedback, making improvements, and keeping up with the competitors; are strategies that lead the door open for a business to blend in.
A social media manager needs to be up-to-date and follow the trend as soon as it takes the hike to make sure of an immense profit rate. The hike brings about a boom in the business's economy. This brings the business closer to spectators in general.
4- Updated Content Calendar
Publishing content haphazardly or when you have the time for it, is of no good. On social media, the content has to be regular and consistent. This can only be done by keeping a scheduled social media calendar – scheduling content ahead of time to stay organized. The best social media manager is the one who always keeps up with an updated calendar.
The scheduling strategy gives you plenty of time and less stress, helping your team relieve and motivate. But how a person can keep his calendar on time? An easy and organized way to achieve this is by having a social media scheduling tool at your disposal. The tool will help you keep up with the previous as well as the upcoming tasks, to make sure you don't leave out on anything.
A social media manager can avoid burnout by using the calendar, scheduling the major, annual and seasonal events and promotions, and making enough space in between can give the mind heap of rest and refreshment for the next job. Also, link the calendar with your team to ensure everyone knows of the plan. Using the calendar to plan, when to post and where just visualizes your efforts effortlessly.
5- Schedule Ahead and in Bulk
Scheduling ahead is one thing, but scheduling for the minute the peak in audience occurs is a rare skill. Saving the content of weeks and months may seem bulky but can give rise to multiple opportunities for the team to achieve. The bulking of the content can give time for indulgence in connections and the customer feels a part of the brand. A good social media manager should know the importance of scheduling while working in a huge company, where a sudden task or an unexpected turn can easily sidetrack the non-scheduled tasks.
6- Monitor, Analyze, Adapt, Repeat
Monitoring the platforms frequently to analyze performance and track growth, and adapt to the latest trend is a cycle that needs to be repeated all year long, mostly seasonally. The social media audience is always fluctuating and the content will evolve with them. Just a decade ago, comic or classy-themed advertisements held the glamour, and a few seasons later, graphic and catchy phrases took over them. Just a year back we were amused with the colour scheme of the content. And today meme is taking over the way of advertising. A funky joke or understandable meme goes a long way today. It is shared and laughed at and accepted in the norms of society.
This all happened just with the flow and evolution of adaption. By monitoring, a social media manager knows that the audience is reacting to which type of content, and how a bit of change can scoop a good number of clicks. Tracking their involvement will help you make content that is liked by your target audience. By keeping a close eye on their likeness, one can create the required hype for the business.
7- Analyze Traffic and Conversions
Knowing which platforms and channels are right for your brand is a must. Finding which platforms drive quality traffic instead of number can build a strong engagement foundation.
Social media is all about now, to the moment. Being engaged at the moment on the platform increases the interaction with spectators hence making it at the top of the feeds. The lively and warm atmosphere provided by the content converges the traffic to the channel that feels like home.
Everyone thinks differently and knowing your audience and dealing with them can make a list of loyal customers.
8- Use the Right Organization Tools
Hard work is commendable but smart work can cut you slack for years to come. Using the right organizational tool can make a social media manager's life much easier. Auto-posting work miles. The scheduled post is published even when the manager is offline. The right tool can find the audience, and the peak hours of interaction, analyze the time frame of interaction and helps create honey for a bear. The key performance indicator graphs the success of the business or brand and the buzzing of the bees.
Postredi is an efficient social media scheduling tool that only helps with the auto-curation of posts while keeping up with trendy ideas, but also helps you keep a track of leads from all social channels. Having your leads compiled at a place from Facebook, Instagram, Twitter, and LinkedIn will eventually bring more conversions.
9- A Managed Inbox
Long ago there were telegrams in our letterbox that we never wanted to open, and today the problem is the same. The only difference is today we have the inbox, revolving around tons of spam and few meaningful messages. Managing your inbox is a creative art that cannot be easily mastered.
The best social media manager productivity tips depends on an organized inbox. The emails of customers need to be on top, in sight, to be read and replied to as soon as possible. Using saved auto-replies can help save your interaction with your customer, them knowing that you will reply for sure. This encourages the audience to communicate further and business to know what they are lacking.
Sum Up
One's mental health must always be their priority. So, to keep up with a good health while providing a good output at work, you have to reach out for productivity tips and tricks.
Well, the trick to the job lies in your job title – a manager must know how to manage. This does not just hint at work management but also work-life balance, which is probably the most important to manage. So, by following the above-mentioned tips, and using the right tools, you can surely make your life a lot easier and more productive.