Social media management is a great way to manage your social media presence online with the help of social media platforms. Now it has become possible to develop a cohesive social media strategy for boosting lead generation through creating, publishing, and analyzing content. White-Label Social Media Management is a powerful tool for interacting with consumers on social media. An efficient range of services, resources, and social media managers are available for managing social media.
It would be best to comprehend that social media administration is more than simply a definition, regardless of how you individually want to approach it. You must know what to do because it is a method of operation that, when followed correctly, will lead to success for your business. White Label Social Media Management has the necessary guidance ready for you to attempt and assist you in determining just what it is that you need. So, let's get going.
What is white-labeled social media management?
White-label social media marketing is one that your business can quickly resell under its own name. This implies that you can provide social media content services to your customers and increase recurring revenue without needing to engage more staff members and develop effective delivery methods.
A white label marketing can be further divided into two categories:
Social media apps you can resell with your branding are known as social media management products. You can label a picture of your own brand on such products.
White-label services are such services that third-party agencies accomplish under your brand logo. In essence, someone else handles all aspects of managing your client's social media accounts, including content creation, publishing, Social media campaign management, etc.
What are the different types of white labels?
The following is a list of some types of white label
White-label products or services are offered by a white-label business that sells to a reseller, who then resells it to the customer, another business.
Goods or services that are resold by a business to the customer, who is a consumer or individual.
Also known as software as a service. Rebrandable software that is hosted online and is leased on a subscription basis. Resellers sell the software to the reseller's customers under their own brand. A means of delivering software that did not require customers to purchase a subscription every year. Provides monthly returns that are more equally dispersed, increasing cash flow.
How does white-label social marketing work?
White-label social marketing works as white-label products are made by a supplier to be rebranded and sold to a final client. Through their reseller partners, providers can access a vast distribution network thanks to white labeling. Resellers can easily extend their product and service offerings without starting from scratch with new products. White-label marketing relies on anonymity because the final product's purchasers are unaware that a white-label supplier initially developed it.
Did you know that essential brand names frequently resell white-labeled goods and services to consumers who are unaware of this practice?
White Label Software Example:
White-label software is one that the purchasing company can use and brand as its own. It works similarly to renting or leasing software from another brand. Unbranded white-label software is given to a reseller or service provider, who adds their own branding and charges customers for platform access.
For example,
Company X, a white-label marketing software provider, offers its products to Company Y, an agency, for resale.
Company Y then rebrands the marketing software with its own branding before being sold to Company Z for use.
Users often subscribe and pay on a monthly basis under a SaaS agreement.
What is the core functionality of a white-label social media management agency?
A white-label social media management company creates methods and solutions that are in line with their client's brands and provide them with a comprehensive, personalized presence on social media. These specialized agencies create social media marketing campaigns that target the appropriate audience and use the appropriate messaging in order to provide businesses with a social media edge using customized social media ad targeting data.
To expand their social presence, interact with customers, and produce new leads. Their essential service is the creation of a social media platform that is branded and sold as their client's own. Social media management companies handle all of their client's social media channels on their behalf using exclusive white-label social media management technology, content writers, marketers, and QA professionals.
Why do you need a white-label social media network?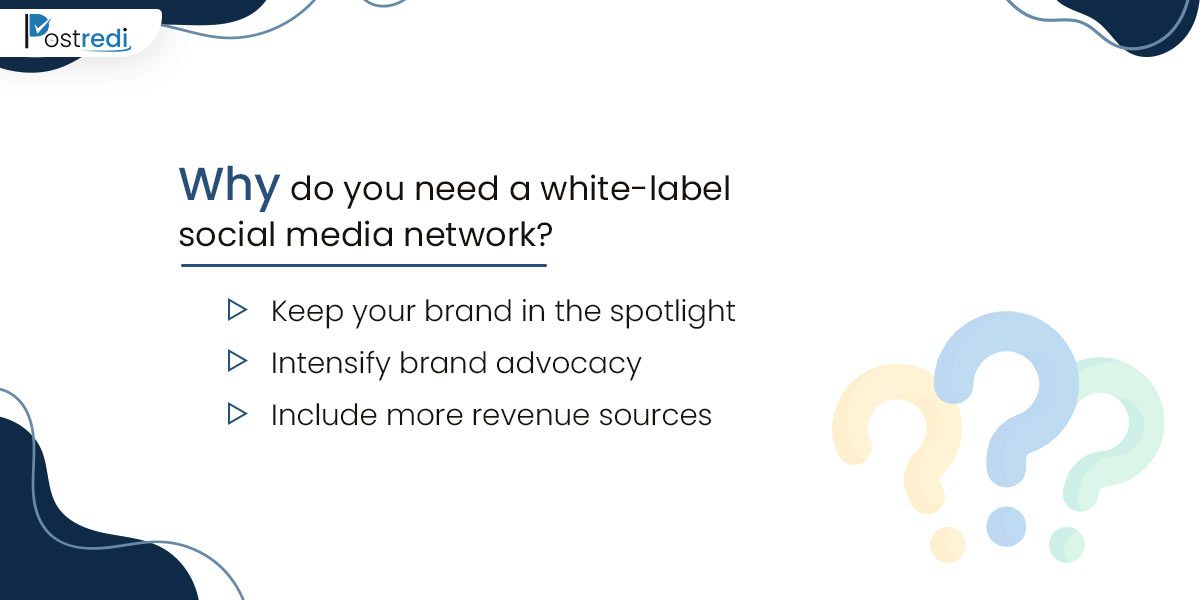 Even while widespread social media is frequently seen as the height of digital marketing, it's growing more and harder to stand out in the sea of digital noise. But you are in charge when you have your own white-label social network.
Keep your brand in the spotlight
White-label products are ready-to-use products that let you apply your own branding and have complete control over the platform. That implies you are not required to cede your brand's recognition and adherence to a third party, such as Facebook or Twitter.
A smaller audience may result from creating your own social network, but that is actually a significant benefit. You have many more opportunities to increase brand recognition and develop brand advocates when you have a tight-knit group motivated by shared interests and ambitions.
Include more revenue sources
Your community's members will be far more willing to make purchases from you if your brand takes center stage. You can increase your business's revenue streams by incorporating online shopping or offering paid membership services.
What are the strategies of white labeling marketing?
A White Label site is incredibly easy to make. It's trickier to make it lucrative. Starting is simple, but finishing is more complicated. Establishing a recognizable identity is a fundamental strategy. Trying to be different is the most challenging thing to do. But not in the things you sell but in the way you go about it.
With just a few dollars, social networks provide you the chance to reach thousands of individuals. However, use social media for something other than sales purposes. Make connections with your audience on social media. Use the Keyword Planner to locate terms relevant to your sector and target Google Ads advertising campaigns.
Create your own products and stand out in the market
Offering goods from tens of thousands of different suppliers is sometimes an issue. The secret to a successful business is often to enhance what already exists. Finding a means to extend the life of a tire is a goal rather than reinventing the wheel.
What you must do is
Define your brand and your objectives in detail.
Develop a plan for social value.
It is to establish a connection with your clients.
Avoid well-known copying brands.
Include colors that are emblematic of your brand on the site.
Market differentiation and service branding
The complexity of providing services may increased by the need to focus heavily on brand credibility. Beyond the service you decide to give, you should consider the following crucial factors:
Analyze your prospective client's requirements.
Investigate the products of your rivals to learn from their successes.
Aim for prompt, superior service.
Utilizes partnerships with esteemed partners.
Provide case studies demonstrating the success of your services.
Make use of social media, particularly LinkedIn.
Create a plan for instructional content marketing that emphasizes the service above the product.
What qualities should you prioritize when choosing a white-label social network platform?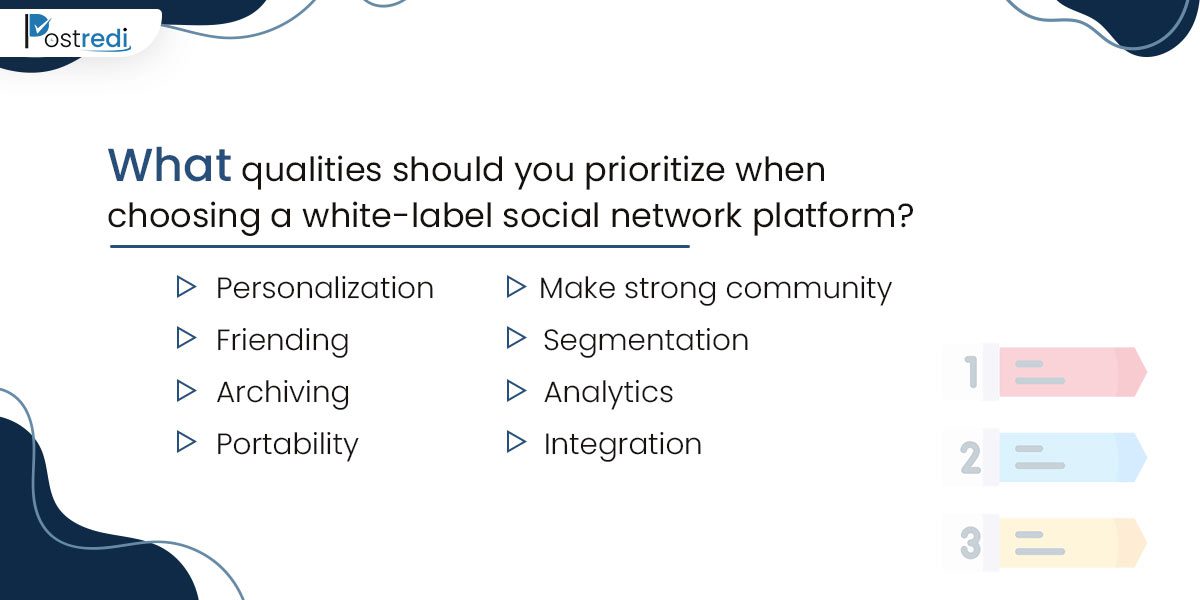 There are several features that white-label platforms provide to best fit your needs. If you know how to translate your goals into needs, then you can easily pen out your required features.
Here're some of the top features to prioritize
1- Personalization
White-label social networks may provide turnkey solutions, but that doesn't mean their strategy is one-size-fits-all. Thanks to robust customization possibilities, you should be able to select your own colors, logos, features, backdrops, icons, and menu structures.
2- Make a strong community
Relationships are formed in online communities. That's where social media marketing and brand-building really shine. Members can communicate with each other and the rest of the community using messaging.
3- Friending
Community builds when people start to get involved in it and make friends. The relationship they build due to the community eventually becomes a vital part of their association with the brand they hold. So, it's good to add friends and send them messages.
4- Segmentation
As competing interest groups compete for attention, larger communities can quickly become fragmented. The capacity to categorize different interest groups can aid in keeping the conversation on topics and segmenting your audience.
5- Archiving
Modern social networks provide media-rich experiences with photo- and video-sharing, even if they have their roots in online forums. To ensure that your community can easily access your content, you'll need a mechanism to archive it.
6- Analytics
By giving you data about your users, content, and devices, analytics enable you to understand your community better. This offers priceless insights into enhancing your community and fostering better user experiences.
7- Portability
The use of native social media apps takes up the majority of time on small screens. If you're primarily targeting a consumer audience, a native mobile app is essential for expanding your reach.
8- Integration
A well-managed branded social network can play a crucial role in customer relationship management, assistance, and product ideation. You'll need an open API for a smooth connection with your current tools to streamline your workflows.
How can white-label social media management help your business?
White-label social media management helps your business to grow its reach online. A reliable and successful social media presence is one of the critical branding components for businesses of all types and sectors. It's a fantastic chance to establish your brand in a competitive, crowded market and showcase your distinctive brand personality.
The most cost-effective approach is hiring white-label social media content developers who can provide attractive, on-brand social media material. White-label social media management gives you scalable and adaptable procedures that will keep and gain the trust of your social media audience.
What are some pros and cons of white-label marketing?
There are lots of advantages of white label marketing, but as well as it has some disadvantages too. Some pros and cons of social media white-label marketing are given as follows:
Pros
Less investment as compared to building a product from scratch (zero).
After spending a few hours in rare cases, you're starting to earn.
Fewer chances of responsibility mean fewer problems
High-quality of approved products.
It allows you to gain benefits while working with experts
No technological and research cost is needed
It permits you to have an internal developer that free of any charges
You only needed a few skills to get started
Cons
Almost no influence over the product's creation
The broad rivalry that provides the same product as us.
White Label initiatives aren't as valuable as wholly original goods and services.
What are the top white-labeled social media management providers?
The following are the top white-label social media management providers that provide social media post scheduling services.
It is the #1 white-label platform that offers more than 250 re-sellable goods and services. They offer white-label social media management services, DIY social marketing products you can resell for higher margins, and award-winning marketing automation systems to help you promote your services. This includes content production, campaign strategy, and custom design work. Vendasta per month price is $97 to $1150.
Postredi focuses on white-label services that include post-scheduling and copywriting. On postredi, you can schedule your content to be more accessible for a week or month. You need to create content, manage the content and schedule this content through a white-label dashboard that you provided to your client. It's best in this way that your clients can check reviews and leads. It offers two pricing plans pro-recommended ($49 per month, $39 per month\Annual plan) and done for you best for super busy investors ($699 per month, $599 per month\ Annual Plan).
White-label services, such as copywriting, picture creation, and post-scheduling, are the primary priority of MixBloom. Through a white-label dashboard you offer your clients, they oversee the creation of content and the approval process. But there's no DIY app that you can rebrand and sell. Its pricing depends on post volume ($199 – $499 per month).
In contrast to MixBloom and 99 Dollar Social, there is Sendible. However, they do provide a white-label social media software that you may resell. They do not provide white-label social media management services. With a few great extras like bulk imports and collaboration tools, it has all the capabilities your clients require.
Why work with a white-label partner?
When developing a social media strategy for client business, the first thought that comes to your mind is how to provide efficiency in it.
As you know, the critical element of branding is to develop a trustworthy and effective social media presence. Your effectiveness is an opportunity to locate your clients in the industry at the top and show them worldwide. On social media, competition is very high, and broadening your industry is another challenging step you have to take. To establish your roots high, you want to work with content creators that will create content that will be engaging and as well eye-catching.
Why should you invest in white-label social media management?
Investing is okay, especially when you see positive behavior in it. Social media platforms emerged from growing your business online and inclined your brand. And that's the thing that several average enterprises can't do well on their own behalf. So white-label content manager comes into the picture, and they start exploring and broadening your brand.
Final recommendation
The most profitable services to outsource are those involving the creation of social media content. This is why most digital agencies include social media management in some capacity as one of their offerings. One efficient strategy to increase your company's recurring revenue is to offer your customers social media management packages. White-label social media businesses and solutions can be helpful in this situation. Your company will grow by outsourcing the generation of social media content to a white-label partner without limiting your team's bandwidth or expanding the internal staff.