Social media has users of all ages but not every user is aware of its benefits and the value it can provide to any business. Students on social media are busy with mindless consumption of whatever content it offers. Meanwhile, teachers and parents are too scared of its daunting effects and hence try to stay away from it. This is where teaching social media in schools come into the spotlight.
Very few, if any, schools are trying to teach productive use of social media to their students to develop essential marketing skills and nurture their intellectual passions. But as an educator or a teacher, one often asks themselves if teaching social media in schools can help their students.
The social media forum provides updates on everything in real time. By watching this content, students can develop expertise in their field of study and stay connected with the most recent market trends.
Implementing and Teaching Social Media in Schools
Social media has a broad landscape and it cannot provide any productive usage unless you learn to navigate through it properly. The academic skills you acquire during your years of learning must also have some practicality attached to them. Yes, you have a social media presence and optimized digital accounts. But do you know how social media scheduling works? Can you curate and monitor content and its reach? Are there tools to help you out with this? The gist here is that teaching the use of social media alone is not enough. Its practical implementation is equally necessary.
Building A Strong Online Community
One can extract numerous benefits at a higher level through social media networking. One way of networking involves learning management systems like Blackboard or Moodle. The other way is through teachers, who need to positively adopt and implement new ways of teaching and build an online community of classrooms for discussions. It will enhance their overall ability to open up and share their opinions.
We have compiled some tips that would give you an idea of what teaching social media in schools should look like and which tools you can implement.
How to Make Social Media a Part of Teaching Experience
Let's have a look at some easy ways educators can implement in their social media curriculum to boost the academic experience of students and help them explore its productive usage.
Updating Students through Facebook Groups
Facebook is the most suitable social platform for the incorporation of social media teaching. First and foremost, it's easy to use and almost everyone knows how to navigate around it. You can start by developing a classroom group or page which will be centred on relevant activities. Whatever updates and class announcements need to be notified, can be done through these groups.
Furthermore, you can conduct informative sessions through the feature of 'Live' sessions. Or the students can host various discussions on their own based on their general topics of interest. However, one thing to keep into account is respecting and maintaining educational and professional boundaries.
Utilizing Twitter
Just like Facebook, Twitter can also be a productive tool to learn in schools. One can easily connect Twitter with a social media scheduling tool and keep all their socials organized.
Twitter discussion boards have limited characters which can be of great help in developing a student's critical thinking skills. They will learn how to communicate effectively with conciseness and deliver their point effectively. Also, Twitter hosts most of the corporate giants, educational discussion groups, and podcasts. So, it is an interesting platform to explore for graduate students. The proper use of hashtags must also be taught.
Class Discussion Blogs
No doubt writing social media blogs can horn one's writing skills. Through wordy social media post captions, students can learn how to deliver well with brevity. But the best way to utilize these skills is through website blogging. Teach students the use of blogging platforms like WordPress, Tumblr, Wix, Blogger, SquareSpace, Medium, etc. students must learn the use of these platforms and then create their user accounts to write blogs on topics of their choice and interest.
As a teacher, you can also assign blog posts as assignments or weekly essays. It is a great strategy for improving students' critical thinking and short-form writing. This prompt of teaching social media in schools should not be limited to writing or English classes. Rather it can be applied to all fields of education.
Social Media Marketing
Social media marketing refers to selling and promoting your products and services on various social media platforms. Teaching social media marketing can be highly rewarding for students, especially those at the graduate level. It is a common observation that students who wish to start a company in near future lack the essential social media knowledge and skills. Amongst them, one of the most important aspects is social media marketing.
Teaching social media in schools will allow students to learn SEO skills, how to create brand awareness on digital forums, and how small social media business incentives can allow them to generate increased revenue. The level of opportunities students get out of it will depend on what you offer in your social media curriculum in schools. Because social media offers a powerful platform with a large reach. And even a modest budget can help some like-minded students to launch and market their products. However, an important point to bear in mind is that successful marketing requires social media management tools and skills. So, the use of such tools should also be taught.
Alumni Groups
By creating interest-based alumni groups, the freshmen will get to learn more from the practical experiences of their seniors. Most of the university alumni love to stay connected to their schools. Through such groups, you can arrange various discussion sessions and activities. It will allow students with common interests to have productive interactions.
Teaching Productive Use of Instagram
Instagram is more of a visually appealing platform. Most students today are already aware of how one can make their account visually attractive for their followers. But that is not all that Instagram offers. It can be of great help in boosting your business.
Start with teaching your students about the marketing benefits they can avail of with this platform. Talk about trend-setting patterns and how to achieve that goal. Make them aware of the importance of tags. Through hashtags and geotags, one can make their content visible to a wider audience. So, it's an effective brand promotion strategy for small startups. The app also provides marketing services to small businesses at a low cost. Eventually, the reach will encourage the students to build up their business idea.
Creating Pinterest Boards Together
Pinterest is fun – everyone agrees. As Pinterest revolves around the idea of images and has a huge visual appeal attached to it. One can create numerous boards of their interest. But the app also has social media marketing potential and can be of great help in expanding a business's reach. Moreover, as compared to Twitter, Pinterest is 3 times more effective in generating business leads and 80% more viral.
Students should be taught about content promotion on the app in addition to curating a visual appeal out of it. Moreover, Pinterest's creative marketing efforts will humanize their brand ideas as they make relevant boards that reflect the brand's feel.
The platform, Pinterest, can also help curate a digital biography in case of research papers or projects. They can simply pin all the relevant sources or websites on a single board and refer back to it when needed.
Empowering Opportunities on Social Media
Social media has always played a huge role in empowering students, teachers, and even parents by providing them with various opportunities through which they can stand out. Firstly, it is easily accessible. Around 96% of the students with the internet are on at least one social media network. It offers new ways of making a community and sharing content or information.
In addition to providing marketing and academic benefits, social media offers other empowering opportunities too. Many students find it much easier to engage with scholars and other experts in their field on social media. Also, because of its quick reach, they can easily find jobs, summer internships, and workshops. Instagram and Facebook host plenty of accounts that arrange workshops that students can register for online. There are writing contests, publishing houses, digital designing tricks by designers, psychology workshops, lectures from international and national scholars, and so much more. It is now up to you to avail such empowering opportunities and strengthen your career.
Concerns Regarding Social Media Usage
Many educators are against the idea of teaching social media in schools because of the following concerns: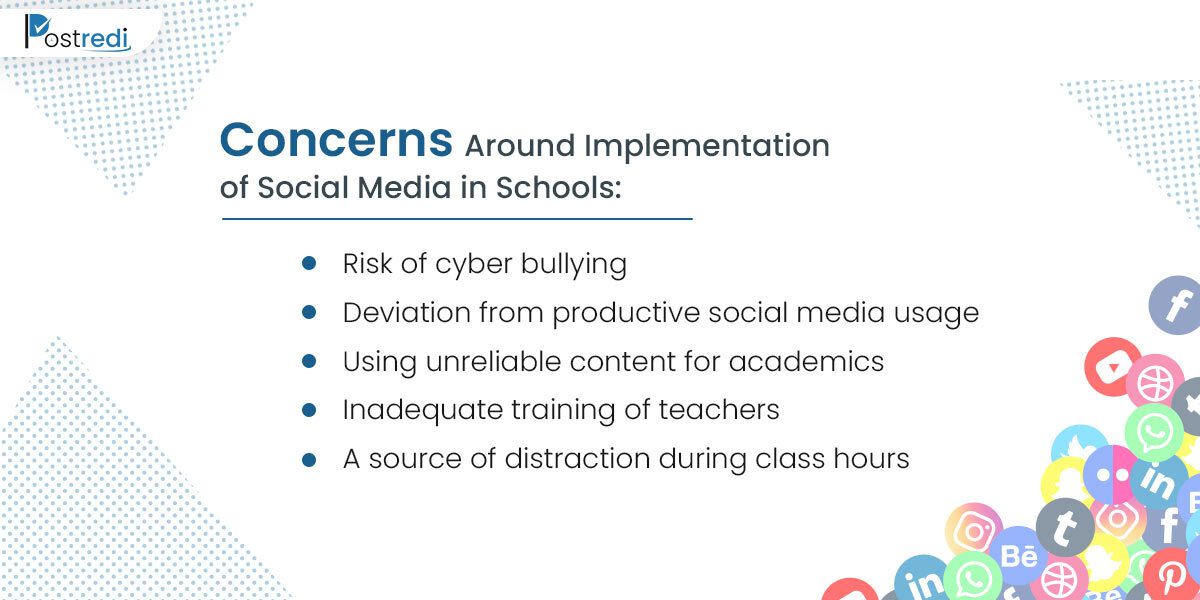 To avoid such issues, we have compiled a generic list of dos and don'ts for you during the practical and academic application of social media usage.
Dos and Don'ts of Practical Application of Social Media in Schools
Schools can certainly benefit by adopting a social media curriculum, but the regulation of social media safety is equally important. Here is a brief list of dos and don'ts to get you an idea of what should and should not be a part of teaching social media in schools.
Do's
Stay updated about any developments in social media and about the features in an app's new update.
To keep the students safe and protect them from cyberbullying, use efficient safety protocols.
Use a survey to take students' opinions regarding the use of social media in classrooms. See what they can add to it.
Keep a check on unproductive usage of social apps in the classroom, especially during the time of learning.
Social media has the potential of offering both education and fun. Try taking advantage of both of these aspects.
Encourage social media communication and students' engagement with posts.
Ensure the correct use of social media privacy, especially on Facebook.
Give students access to academic and productive websites so that they can that advantage of the paid content too.
Teach them how they can manage their social media addiction and have a critical approach to its content.
Don'ts
If, as a teacher or an educator, you can unfamiliar with the use of social media, then don't be afraid of admitting it instead of teaching it in all the wrong ways possible.
Don't try to substitute traditional classroom methodology with social media teaching. Traditional teaching and lectures will always have more importance. Rather consider social media as a tool or an additional resource to enhance the teaching experience of students.
Keep both the positive and negative aspects of social media in mind while teaching its usage.
Avoid encouraging students in getting involved with any social media interaction that can negatively impact their future careers.
Final Thoughts
Teaching social media in schools does not only help with academics but a student can easily create a career out of it too. Ironically, if a student simply took the class in social media education, there is a good chance that they can find employment in near future. Companies and businesses pay for social media marketing and content generation like curating Pinterest boards, producing Instagram reels, managing social accounts, keeping a track of insights, and much more. Young graduates who are empowered with such a productive use of social media can create a huge digital footprint in the future.
Fulfilment in education comes from deeply exploring one's area of interest. So, it's time to help our students attain this fulfilment by helping them pursue their interests in practical situations. The learning environment is changing. It's time for schools to change with it.