If you're in a Real Estate agency, you must have heard about Open Houses. The open house seems very challenging initially, but it also has several advantages. The concept behind open houses is to show your sold property to multiple buyers at once without interacting with them individually. For this, you need to perform a little (or more) home staging based on current house conditions. But whatever the reason, we'll look at the scenario of open house meaning and its strategies.
Open House meaning
A Real Estate open house meaning is to attract the attention of a larger pool of potential buyers, and it helps to get the house seen by as many people as possible. The Real Estate agent or broker hosts an open house event for all potential buyers without interacting with them individually. The event is mostly organized on weekends so all potential buyers can visit the house. The interested buyer further consulted with the agent, and the agent consulted with the seller. This can be very beneficial for sellers because they need to perform home staging only once. It saves their cost and time as well.
What is the process of an Open House?
Now you understand the meaning of open house. In Real Estate, buying and selling a property is a perfect example of an open house. The agent hosted an event at the weekend where all the potential buyers walked in and stopped to take a sneak without an appointment. This can be a great opportunity for those who are interested in buying a house. During an event, you can ask as many questions related to property from agents. So that you have better knowledge about the current situation of the property – the buyer.
During an open house event, the house hunters get to feel connected with the house. Interested buyers even bring an open house checklist to stay organized. They further host a meeting with agents to look at the house in greater detail. Most of the sellers or agents also offer snacks and refreshments; this seems like a party type environment. But this works better than viewing an open house individually.
Open House Strategies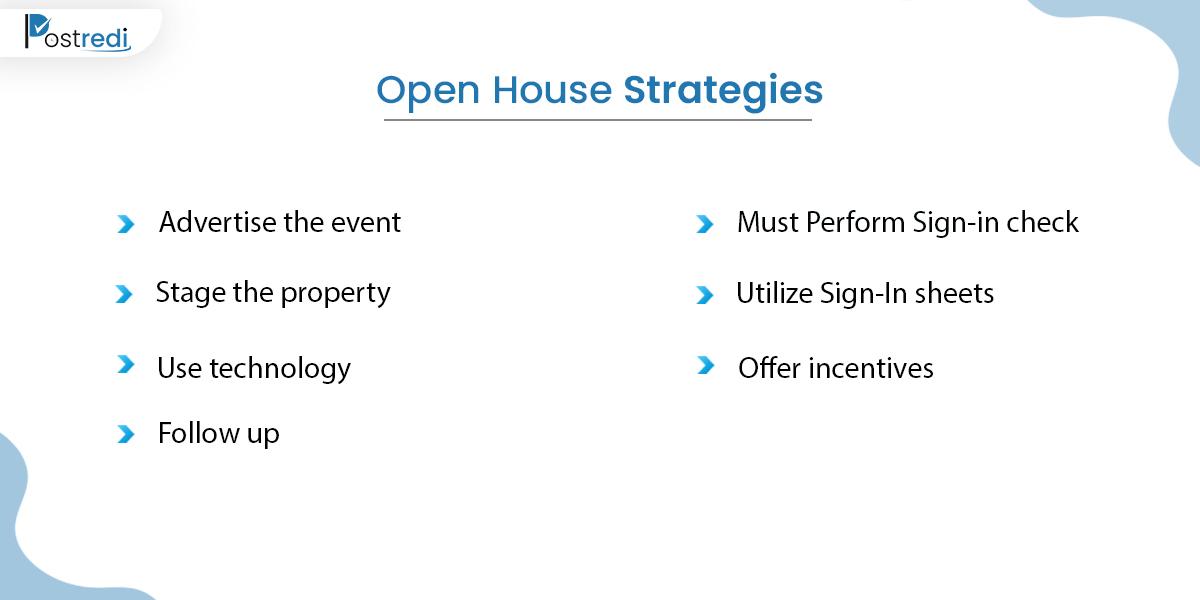 Open-house strategies are the best lead-generation ideas for business growth. Here are some effective open-house strategies for Real Estate:
1- Advertise the event
The seller's broker or Real Estate agent performs this check. He has overall authority to perform online and offline advertisements while collaborating with sellers or Real Estate agents. The broker utilizes online platforms such as social media, websites, and Real Estate listing sites to promote the open house. The offline platform such as banners, posters etc.
2- Stage the property
The agent performs this check for potential buyers. They clean and declutter the property, makes necessary repairs, and add appealing touches such as fresh flowers or a bowl of fruit to create a warm and inviting atmosphere. A house should be ready for buyers' tour.
3- Use technology
For a long-lasting impact on your property, you need to use technology. So, potential buyers make a deal with you to buy a house. For this, utilize virtual tours, 360-degree images, and other technology to showcase the property and make it easier for potential buyers to visualize themselves living there.
4- Offer incentives
For your property worth, you should offer incentives for your potential buyers so that they attend open house events. The buyers who want to buy a house will already join the event. But to grab the attention of your surroundings, it's vital for you to offer raffles and discounts for them. The more potential buyers will attend the event, the more leads (contacts) you will have.
5- Utilize Sign-In sheets
When hosting an open house event, there are a number of potential buyers who are interested in buying a house. A good sign-in sheet is vital for them to get your buyers' contact information, current address and other contact details. This can be a great opportunity to meet with potential buyers in one place.
6- Must Perform Sign-in check
The buyers who are interested in your property will be happy to fill out a sign-in sheet and are interested in answering every question. But most of them will skip this sheet, so take advantage of this great opportunity. Put your sheet in a visible location and ask everyone to sign in without wasting it.
7- Follow up
After the open house, reach out to attendees to follow up and provide additional information as needed.
Pros and Cons of Open House
As you know, everything has some advantages and disadvantages, and so does an open house.
Open House' Pros
Some pros of the open house scheme are illustrated below:
Open houses are the best way to attract potential buyers. The more house hunters visit your site, the more buyers you will have.
It gives the authority to buyers to visit the house at their leisure, mostly on weekends. It saves their time a lot.
Interested buyers can schedule a meeting after hearing about the sold property.
Based on attendees' responses, the agent or seller decides whether to sell the house immediately or need some other things.
Utilize visitor feedback to notify the realtor of any issues with the property.
Open House' Cons
The cons of the open house are illustrated below:
Open house preparation takes a lot of time because you need to be very careful about every little detail, and after that, you need to host refreshments too.
During the open house event, homeowners leave their homes. So finding a place till that time is very challenging.
A good agent has the skills to judge who is interested in buying a house. That is why agents attract more curious and nosy buyers.
The listing agent keeps an eye on everything due to unwanted people. So, they can't break or steal some things.
Online listings can quickly and easily reach more potential customers.
Final Words
The success of Real Estate open houses varies on potential buyers. The more potential buyers you have, the more chances you will have to turn them into leads. It helps potential buyers to buy a house in the shortest time possible. Additionally, it helps sellers to save time while viewing their houses individually. So, a professional real estate agent is what you need for your open house.