Making predictions about the housing market crash in 2023 is challenging because there are several factors involved on either side of the query. The real estate housing market has been put under pressure because of the high mortgage rates in recent times. This is a worrisome factor for economists. They have mixed opinions about whether the housing prices will continue to decelerate in the coming months of 2023 or end up in a crash altogether.
The housing market experts have maintained a keen interest in the economy's fluctuations which are being pulled by various threats like inflation rates, recession fears, steep interest rates, and so on. The market stayed as one of the best investments in 2022.
However, recently the mortgage application rates have been the lowest in over 25 years which is mainly because of the higher housing costs. As of now, we can say that the housing market crash won't happen in 2023 but here are some characteristic factors you must not avoid reflecting on.
Housing Market Factors
Let's have a look at a few factors that have led people to believe that the housing market crash is upon us. From there on, you will know what to worry about and ignore before buying a house.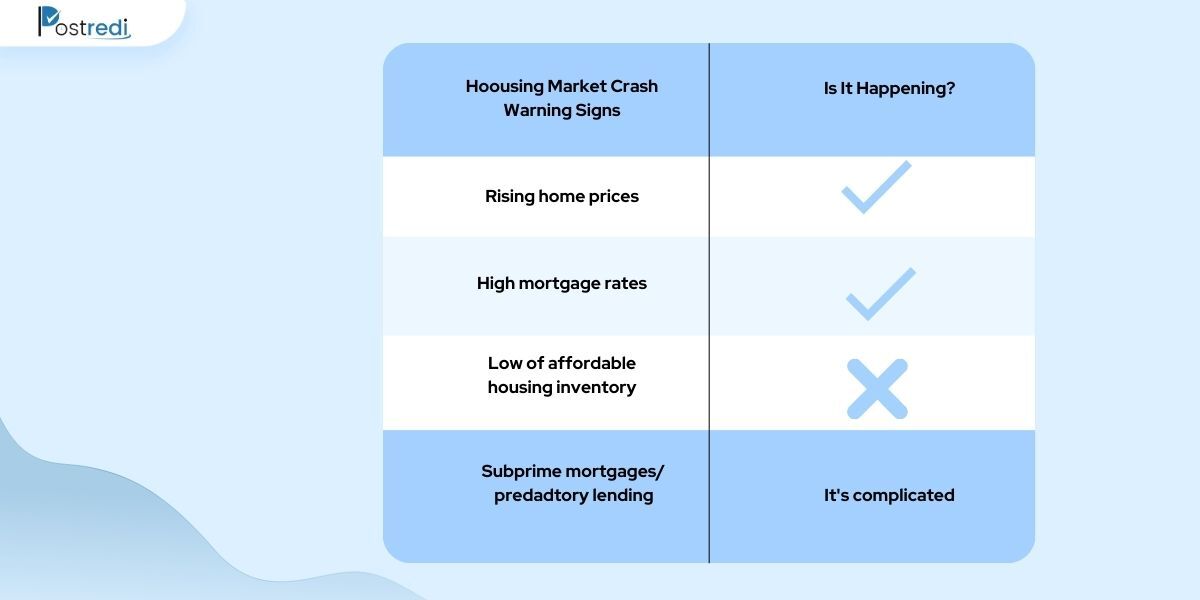 Increased Home Prices
We are all familiar with the rule of supply vs demand when it comes to the housing market. But the pricing trends are somewhat more complicated than that. Various federal interventions and regulations affect the housing market outlook. At the onset of COVID-19, mortgage rates were lowered as per federal regulations but home prices pushed up. There was also high demand. By seeing this high demand and prices, the Federal Reserve increased house rates to cool off the market.
So, the pricing trends don't follow the basic economic rules. And hence you cannot use rising housing prices in 2023 as an indicator to predict the housing market crash in 2023.
Low Affordable Inventory
Housing affordability dropped by 21% between 2020 and 2021 – a significant decrease. The affordable housing market hosts the intense competition. And everyone, including the home flippers, looks for a good deal. House prices increase as the number of homes for sale increases.
Essentially, the housing market will favor buyers when it comes to the most expensive homes. And it will be in favor of sellers when it comes to the most affordable homes.
Lastly, one can conclude that the U.S. does not have enough affordable housing inventory as compared to the demand. Hence, more people lean towards renting, which is often higher than the monthly payments of a mortgage.
Mortgage Rates are Up
Mortgage rates have increased because of various economic factors. This is a key indicator of a housing market crash. When the Federal Reserve rates increase, the mortgage rates increase too, to combat inflation. It's important to check if the rates will decrease this year.
Lending / Subprime Mortgages
Predatory lending and subprime mortgages refer to the unethical lending of loans to people who do not afford them. If this is practiced on a huge scale, it will influence the housing market outlook. So, the increased instances of subprime mortgages can turn out as a risk factor, for the housing market crash in 2023.
Housing Market Crash Predictions
In 2023, the main challenge regarding the housing market will be high home prices. It will lead to difficulty in qualifying for mortgages. The rising prices will be surged by Federal Reserves surely to combat inflation. However, there are a few other important factors that you will need to keep in mind, to predict the housing market crash's possibility.
Mortgage rates will increase.
Home prices will skyrocket.
Predatory lending will become more frequent.
The housing inventory will drop. You can use these factors as economic indicators that are closely linked to each other. Through these aspects, you can gauge the possibility of or the level of likelihood of a market crash.
Will Mortgage Rates Continue to Surge?
Both the mortgage rates and interest rates almost doubled in 2022. But what about 2023?
Various factors like continued inflation, a potential recession, overall higher interests, and geopolitical tensions will lead to a 30-year and 15-year mortgage rate rise in 2023. As short-term risks increase, this will bring the two rates closer together.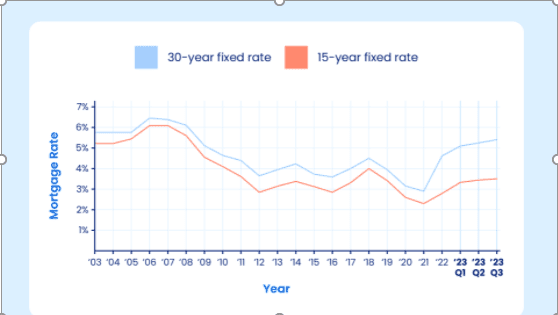 The financial market participants also say that the Fed will probably increase target FED fund rates from the current rates by 175 to 200 basis points. One can translate this to 30-year and 15-year mortgage rates at around 8.50 and 7.70%. However, it might gradually come down over the course of the year. It all comes down to the Federal Reserve's ability to take control of inflation and rising prices.
Will Housing Sales Decline?
The above-mentioned changes in mortgage rates will surely have a huge impact on home sales. The sales will be down, the real question is, how much.
Firstly, if inflation stays high, mortgage rates will keep on climbing to 8.5%. This will lead to a drop in house sales by almost 10%.
Secondly, if there is a gradual deceleration of inflation, in case the consumer price index responds to Fed's rate hikes, the scenario might be less bad. The house sales will then decline by 7 to 8%.
Thirdly, if, to curb inflation, the Fed keeps on rising rates repeatedly, this could lead to an economic recession. The housing market crash might happen in this case. Additionally, house sales will decline by more than 15%.
Related Post – 10 things to do before sell your house
Will Home Prices be affected in 2023?
Since the home inventory is already low, there won't be a drop in home prices in 2023. You might notice the home pricing stays relatively flat. There might just be an increase of 1%. It's not that great of news about home sellers. But welcome, new house-buyers! The pricing strain on the buyers, however, will only decrease if there is a pullback in mortgage rates in 2023.
Housing Market 2023 – Bottom Line
The housing market crash eventually depends upon how the inflation is handled and if it eases up or not. So until that happens, those who cannot afford such high mortgage rates should better wait, instead of opting for loans.
Additionally, in the coming years of 2023, if the mortgage rates do not move that much, then the borrowers will focus on fewer purchase loans. For sellers, it's in your best interest to list your home in the best possible way, no matter whether the market inclines in your favor or not.