Launched in 2016, the Facebook marketplace was more of a garage sale to enable and promote selling and buying within small communities. But after tapping into the E-commerce market, the platform became a powerhouse for businesses. If you plan to maintain your business social presence and sell on Facebook, either for short-term revenue or to create a full-fledged business, then let us walk you through a step-by-step process. The marketplace offers numerous benefits like massive reach and highly-targeted social media advertising. Nevertheless, without following a systematic process, you may not get the profit you're aiming for.
Why Should I Sell on Facebook?
Before you jump to the guide, you must have clarity on the Facebook marketplace's advantages. Because there are plenty of e-commerce websites where you can set up a shop for your business. So why sell on Facebook? Is there something Facebook is offering that makes it a priority for various businesses?
Social commerce (purchases through social media) has gone mainstream. Almost every adult prefers buying things online, either on Facebook or Instagram. And this trend will be growing faster this coming year. Let's read between the lines through the following points to understand the importance of the Facebook marketplace more closely.
👉 Tips on How to do Business marketing on social media
To start selling, all you need is a Facebook account. And it has a huge community. 2 billion active users mean a massive reach for your business. In addition, you will be channeling this traffic to your website as well. This already gives FB marketplace an upper hand.
Another obvious plus point is customer trust on Facebook. It is helpful for short businesses and startups.
Since you are familiar with Facebook, it'll be easier you use, for both buyers and sellers.
Businesses can increase their sales significantly through precisely targeted ads – specific locations, demographics, etc.
Low charges for sellers. The good news is that the FB marketplace will not add any fee on items that have already been marked as shipped. From New Year onwards, the seller fee will be 5% per shipment. However, in case the shipment is $8 or less, your fee will be $0.40.
How to Sell on Facebook – A Guide
One can sell on Facebook either by creating their own Facebook shop or utilizing the Facebook marketplace.
Facebook Shops – where you can set up an online store for your customers. They can access your product through FB, Instagram, Messenger, and WhatsApp chats. You can also use product tags during live sessions which will direct them to the ordering page. It's the best option for small businesses.
FB Marketplace – Where both businesses (limited to U.S merchants) and individuals can buy, sell and discover various products. If you don't have the knowledge to use FB marketplace and Facebook shops then a Facebook business analyst can help you to achieve your goals
1- Selling Through Facebook Shops
Sell through Facebook shops by following the steps given below:
Setting up your Account
Consider this a preliminary step to ensure compliance with Facebook policies. Affirm that:
The product you are to sell complies with Facebook's commerce policies and merchant agreement.
Set up an Instagram business account and link it to the FB page you manage; having managing permissions.
Read: how to connect your Instagram business account with your FB page.
Ensure the two are connected to the same business manager account. Also, you must be the Business Manager admin.
Commerce Manager Set up
The next step is setting up your commerce manager, even if you already have a store on a different platform. It is a platform where you can manage your orders, sales, catalogue, or a shop's inventory, payouts, checkout, and more on both Facebook and Instagram. Anyone can set up a commerce manager but the next step of creating a Facebook shop is viable only if you have physical products. Here's how to proceed.
Step 1 – Log in to Commerce Manager.
Step 2 – If your purpose is to build your own business, click on "Create a shop". However, if you plan to advertise any other item, click on "Create a catalog".
Step 3 – Now select "Get started".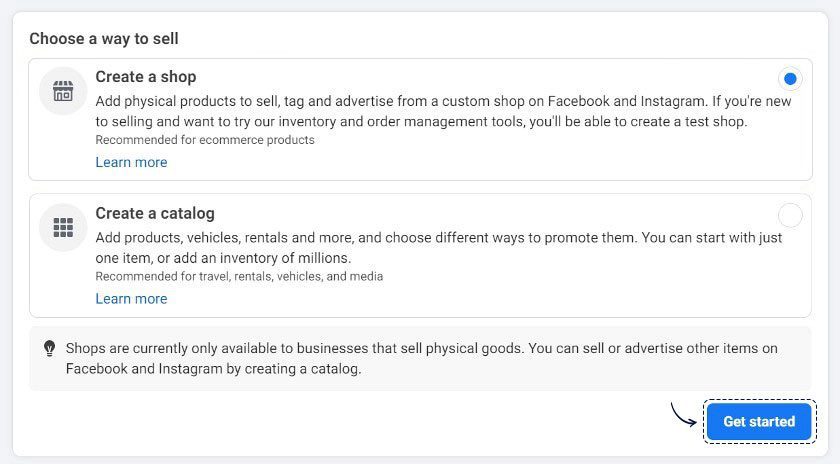 Step 4 – Select the check-out method for your customers, from the following options:
Check out on FB/Instagram – Currently limited to U.S. sellers and requires a Commerce Account.
Your website – A good option if you already have an online platform.
Messaging – The messaging option will direct the customers to Messenger or WhatsApp for payment.
Step 5 – Connect it to your Business Account.
Step 6 – Add an option for Shipping and returns. This setting can also be updated later on. Fill out the following details for each option:
Cart minimum.
Cost.
Estimated delivery days.
Step 7 – When finalizing, review Facebook's seller agreement once again and preview the shop's settings. With that, you can now click on "Finish Setup". Keep following the prompts.
Step 8 – Set up payouts by adding details and information about your business, bank, and tax.
Choose your Selling Options
It's time to evaluate your selling option from the following two.
Using Facebook Shop for Direct Sales – Sell directly through Facebook by simply adding products for sale. A downside here is the manual management of orders which can be hectic. Another thing to add here is that your only selling outlet will be Facebook.
Sync with Other E-commerce Platform (s) – You get to sell more while putting fewer effort. These platforms offer a full suite of product listings, shipping management tools, and automated order features. It's not only a time-saving option but also a great way to increase your reach.
From product entries to shipment processes, everything is mostly automated. But of course, there is a downside here too, which is the cost. To get access to these e-commerce providers, you need a paid monthly account.
Product Catalogue Setup
It's time to set up your products' Facebook catalogue. This is where your customers will find all your inventory and product information. The catalogue can include both physical products and services like entertainment, travel, real estate, etc. To manage the catalogue at any time, go to:
Sidebar menu of Commerce Manager -> Catalog tab -> Catalog Manager Tools.
How you add products to build a catalogue depends on:
Inventory Type.
Inventory Size.
Frequency of changing.
The table below provides a brief overview of catalogue setup methods.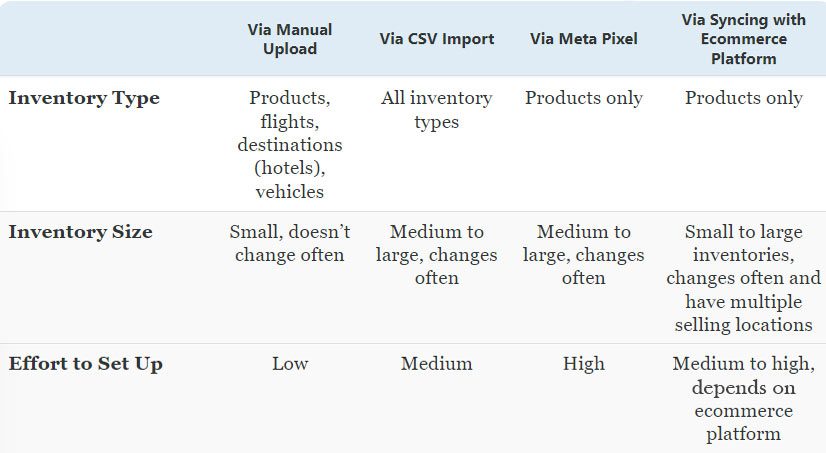 Create a Product Collection
A great product listing will help more in branding and marketing your products. Here are the four key components you can look forward to.
Product Description – must be detailed so that the customer everything there is to know about it, like necessary measurements, product condition, weight, and more.
SKU Numbers – Stock keeping unit; they are the product code that enables tracking in your online store. Ensure the customers know the product numbers in your inventory.
Product Images – Visually pleasing images that need not be captured by a fancy camera.
Listing Optimization
Whatever you can plan to sell, know that you will be facing huge competition with numerous sellers. It's easy to lose your listing somewhere in the search results. To stand out and improve your product visibility, try to optimize your listings with keyword-rich product descriptions and good photos.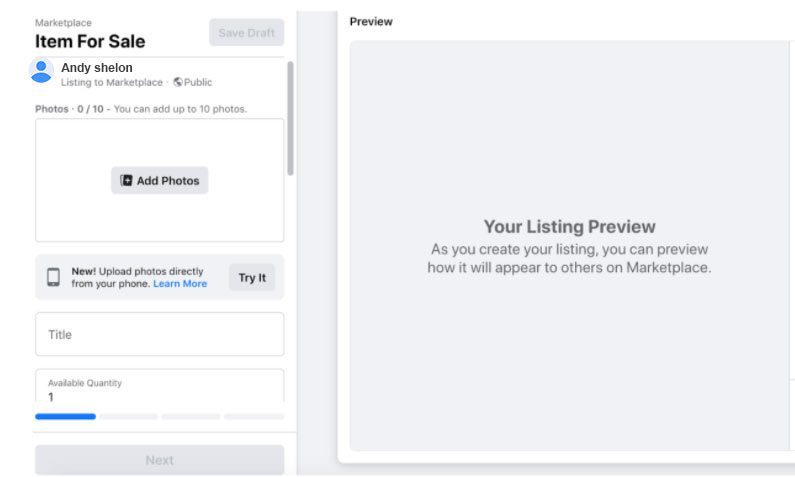 For optimization, both the listing title and product description should include as many relevant keywords as you can add. This will improve the listing's SEO. When a customer searches for a product, it will show up more clearly. The more keywords, the more details, and the better your chances of selling.
Successful Marketing of your Shop
Consider both free and paid advertising options to sell on Facebook successfully. Here are some of the options you can explore:
Through featured products, run ad campaigns.
Boost your post – especially the featured or special products – by paying a small fee. It will help you reach a wider, targeted audience.
Make engaging posts to retain your customers and attract new viewers. You can get this done by hosting contests, giveaways, or other offers.
For maximum exposure and reach, consider using Facebook's paid advertising opportunities.
2-Using Marketplace to Sell
As mentioned earlier, the Facebook marketplace is another option for individuals and businesses to sell on Facebook. It offers several categories:
Office Supplies
Sporting goods
Toys and games
Home sales
Home goods
Family
Garden and outdoors
Vehicles
Electronics
Entertainment
Pet supplies
Buy and sell groups
Apparel
Hobbies
So as you can notice the abundance of categories, you can sell just about anything on the FB marketplace.
As a Selling Channel for Shop
By adding FB marketplace for your shop as a selling channel, you can improve your product's profitability and demand. Follow the following steps for this.
Go to Commerce Manager and select your shop.
Click on Settings in the left bar menu.
Click "Business Assets".
Select "Enable Marketplace", and you're all set now.
Within 24 hours, your listings will get approved and show up in the marketplace. Lastly, remember to comply with Facebook's policies and standards just as in the case of your Facebook shop.
Ads for Marketplace
For a product's ad on the FB marketplace. Follow these steps:
Go to Ads Manager -> Specify ad objective -> Continue.
Specify your Destination.
Narrow and define the Targeted Audience.
Pick between Automatic placements or Edit Placements. By choosing automatic placement, as recommended by Facebook, the ad will appear not just on Facebook but also on other compatible placements on Instagram, Facebook, Messenger, and Audience Network.
Specify your budget and schedule.
Pick a creative format for your ad.
Click on Place Order, and your ad is up!
Let's Sell!
Once you successfully sell something on Facebook, there will be no going back. You will find yourself hooked! It's mainly because Facebook is quite an easy platform to operate and the selling and buying process is easy.